Help a Rhino
---
Rhinos are special! But they are at risk and our goal is to shed light on this unique animal and provide for their support.
Below are three organizations that are supported with each transaction with us: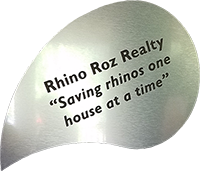 Woodland Park Zoo

Rhino Roz Realty sponsored the Aasam Rhino Reserve exhibit at the Zoo in Seattle. Taj and Glenn are greater one-horned rhinos that arrived at the zoo in 2018. Woodland Park Zoo is working with the International Rhino Foundation, the government of Assam, and other key organizations to increase the population greater one-horned rhinos. THE INTERNATIONAL RHINO FOUNDATION
The International Rhino Foundation has funded rhino conservation efforts focusing on research, anti-poaching initiatives, habitat conservation, breeding, education, and demand reduction. In their words, "IRF is building a unified front to save rhinos by engaging and activating rhino lovers around the world."
AMERICAN ASSOCIATION of ZOO KEEPERS BOWLING FOR RHINOS
This program provides funds and awareness for habitat conservation for rhinos. In their words, "The AAZK Bowling for Rhinos Program connects dedicated individuals with conservation organizations working directly with rhino and their habitats. We provide an avenue for raising funds and awareness to support in situ programs focused on education, protection, population management, and habitat conservation."